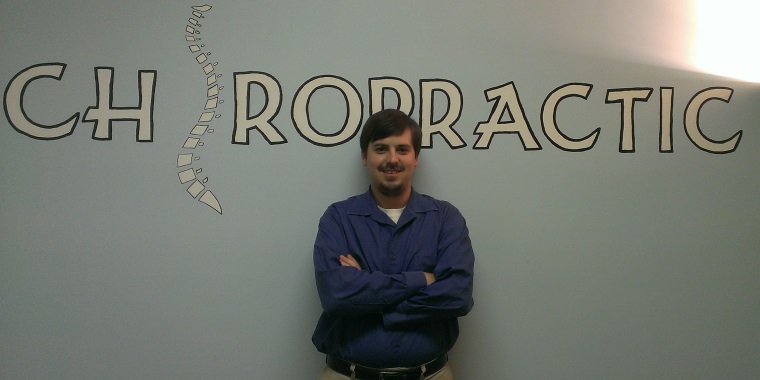 Dr. "Mat" Innis, D.C.
My name is Dr. Mat Innis; however, to avoid confusion with my father (with whom I share the same name), I will simply refer to myself as Dr. "Mat" and my father as Dr. "Innis". Even though my years of practice experience pales in comparison to my father, I have nearly the same amount of Chiropractic Experience. After all, I was one of his first patients. You could even say I was born to be a Chiropractor. I am a life-long student of everything Chiropractic, having decided I wanted to be a Chiropractor at the ripe old age of 5.
The human body is fascinating to me, and even more fascinating is its ability to heal all on it its own...most of the time. Every once in a while it needs a little nudge, an adjustment you might say.
It wasn't until about 5 years after my initial decision to become a Chiropractor that I had my first REAL experience with the healing power of Chiropractic. At about the age of 10 I suddenly had the most painful sensation imaginable in the left shoulder. To this day I have not experienced such agonizing pain, and that includes a fractured clavicle, auto incidents and the occasional sports injury. Instead of rushing me to the ER, my father decided to take a look at me himself. What he found was absolutely nothing wrong with my shoulder. Being a Chiropractor taught him to find the source of the problem, which in my case was a moderate scoliosis (sideways curvature) of the lowback.
I know what your thinking, the lowback has nothing to do with the shoulder, especially not when the pain was so pinpoint it felt like I had a knife sticking out of my shoulder. However, the shift in the lowback was significant enough to cause excess gas to form directly under my diaphragm. The nerve supply to the intestine exits the spine at the apex of my scoliosis, which resulted in the excess gas. The curve was caused by my left leg being over one centimeter shorter than my right! A simple lift in my shoe and a few adjustments later I was completely pain-free. Over the years, with the help of regular Chiropractic Adjustments, my scoliosis gradually straightened until there was essentially no curve at all.
I graduated from Logan College of Chiropractic in December 2010 with Cum Laude honors and an Award of Excellence in the Field of Radiology and Diagnosis. I obtained that honor by having the highest GPA of my class in the subjects of Radiology, Neurology, Pediatrics, Geriatrics and Differential Diagnosis. I am happily married to my beautiful wife, Megan, and have a 3 year-old daughter, Dani. I was born and raised in Charlotte, NC and cannot think of a better place to practice. I have the privilege of working for one of the best Chiropractors in Charlotte, Dr. Innis, who also happens to be my father!